Goddess is also available by calling directly at 1-855-MZDEVON

Hypnodomme
Sessions
Hypnodomme
Utopia
Feel the sensations of becoming an object, a doll. This is not a dollification experience but rather the experience of becoming a toy, a plaything for Ambre Jade. Deep surrender to the feelings of a total loss of control.
This is the first installment of a series devoted to you becoming My plaything, slowly, completely and without question. My toying with you gives you purpose.
This session is 25 minutes long
There is slight layering
There is no background music
Headphones are suggested and encouraged
Hypnodomme
Sessions
Hypnodomme
Utopia
29 minutes
This file is full of mind fucking NLP conditioning to drop you deeply into trance, where I totally fuck your mind, and arouse you over and over again, making you edge and slow, edge and slow over and over. I tease you mercilessly, make you so weak, so eager to orgasm, and bring you back down again, only to show you the edge yet again. This is SO amusing to me! You can hear just how amused I am as your body no longer listens to what you want, and simply responds only to my control and commands.
Your balls will feel so full, so heavy, so desperate to be drained. You can handle it, can't you weakling? My merciless teasing, my forcing you to stroke (JOI), edge, and stop over and over again, until I push you over that edge, only to ruin your orgasm, and leave your desperate, horny, WEAK, and needing to please me even more and earn my attention.
Oh what a devious file, that you can't resist listening to RIGHT NOW.
[audio mp3="
https://hypnotichayleestore.com/wp-content/uploads/2014/08/bulgingblueballssample.mp3
"][/audio]
The button above is for my personal store, or you may purchase via the niteflirt button below.
Buy Now
via niteflirt
http://hypnotichaylee.com
Hypnodomme
Sessions
Hypnodomme
Utopia
iphone & ipad full functionality have just been added as upgrades to ALL featured media files & pages in My BRAINWASH STATION!!! PLUG & PLAY MOBILE~
State of the Art mobile presentation is a luxurious addition to the full browser stylistic desktop and laptop features in My Brainwash Station! What are you waiting for? JOIN NOW & take My BRAINWASH STATION with you wherever you go, MY VOICE & IMAGE are just 1 click away at ALL TIMES!!
UNLIMITED ACCESS for ONE MONTH is only 125.00!! Beyond the obvious reasons to join, like a selection of media (mp3 AND video) and assignments designed to turn you into My hypnotized DRONE (and what a totally PHENOMENAL deal, because to purchase just one of these files by itself will cost 150 dollars, on average), there are also occasional EXCITING EVENTS in the PRINCESS ROYAL COURT!
There will be one such EXCITING EVENT during the next week exclusive to BRAINWASH STATION members ONLY!!
THIS MONTH'S FEATURES include not one but TWO of My full-length HYPNO mp3s ~ these two files alone cost 275.00 when purchased on their own.. and these are only 2 of the featured items for this month!
This is your VIP pass into MY world of MIND CONTROL. Find out what I have in there this month to get you TOTALLY ADDICTED, DRONE. you CAN'T RESIST the CURIOUSITY of what I have PLANNED for you!!
you will be inundated by My RE-PROGRAMIZATION experiments, Capitalistic Blonde PROPAGANDA, and intense INDOCTRINATION. you WILL BE My TEST SUBJECT..

JOIN NOW


- See more SPARKLING GEMS at:


Hypnodomme
Sessions
Hypnodomme
Utopia
These suggestions and tips all stem from my personal opinions, and observations while working with
trance lovers
who have an
analytical mindset
. They may or may not work for you, so my biggest suggestion is to practice, practice, practice and not give up!
Analytical thinkers
tend to respond differently to
trance
and
erotic hypnosis
, than those with different mind sets. They tend to really listen to every sentence said, and pick them apart piece by piece. They become increasingly curious as to why the
hypnotist
is saying what she is saying, and asking them to do what she is asking them to do. They tend to genuinely be interested in all of the aspects of hypnosis. Why and how it is working, and when and how they will fall in to
trance
.
While this curiosity and interest can be useful and fun, it is often a setback , because it stalls the process of simply enjoying, accepting, and letting go. If you have an
analytical thought process
, you can successfully enjoy trance, and train yourself to not analyze everything to the point where you can not successfully enjoy
erotic hypnosis
and trance in the way that you are desiring to. Here are a few tips that I personally suggest for you!
1.
PRACTICE
~! This is best done by listening to one, up to a maximum of three of your favorite
erotic hypnosis mp3s
. While live sessions can really benefit you and help, you should learn to help yourself first by practicing with repeated exposure to one or more of your favorite mp3s. I suggest searching for ones that state that they are a
confusion induction
, or any type of
"overload" induction
. ( Once you achieve a trance state that you are happy with you can move on to all sorts of other inductions later). These types of inductions are great for those with an
analytical mind
because they are packed with information coming at you all at once, in several different layers, or simply in a confusing way. It will get to a point where you simply can't keep up with all of the information coming at you from different layers (tracks, overlays of voices and suggestions) that your conscious mind simply gives up and you start to zone out. This can happen even if you pick up on one track/voice , and focus all of your attention on it. What this does, is allows your subconscious mind to be more open to the underlying suggestions that you are unable to focus on.
2.
Listen to an mp3 while focusing on something else.
As always, when indulging in
erotic hypnosis
, you should do so in a distraction free, safe environment. This means not while driving or pretty much doing anything but relaxing alone. Perhaps you can sit down in front of your computer, and put your headphones on. Play the mp3 at a low volume, and start browsing your favorite internet sites. This works in a similar way to the tip above. Your conscious mind will be actively trying to focus on several things at once, so that other parts of your subconscious mind can be more open to what is being said. Even if you do not consciously "hear" or listen to the mp3, you are training yourself to be open to the
sensations of hypnosis
. I suggest keeping a notebook or online notepad to document your experiences and progress with this. How do you feel after 30 minutes of doing this? Do you feel that you were closer to trance this time? What did you feel, or experience while doing this? Etc.
3.
Change your listening habits and thought process
. Analytical thinkers tend to get stuck in their ways, and give in to certain habits and thought processes. A few examples of this are : Constantly second guessing yourself or the hypnotist. "
Am I going to go in to trance
" "
I will never be hypnotized
" "
I can't be hypnotized
" " Oh I think I'm getting close to trance!" " Okay I am not hypnotized" " I remember everything after listening" etc etc etc. Instead of putting negative connotations with your thoughts of
erotic hypnosis
and trance, as soon as you have those thoughts, change them to something positive. " I am going to go into trance" " I can be hypnotized" " This feels really good" " I am hypnotized" etc etc.
As silly as this sounds, it has helped so many people prepare themselves to be more open to experiencing trance.
Also, change your habits of where and how you listen. If you normally listen while laying on your bed completely naked, try elevating your head with an extra pillow, or laying back in a chair with one item of clothing on that you can wear each time you intend on experiencing hypnosis. If you listen when it is light in the room, listen when it is dark. Changing things up can help you get out of typical habits, and try something new, therefore may help you be more open to experiencing new experiences.
4.
Step into a world of fantasy before true reality sets in.
A LOT of
erotic hypnosis
is full of deeply
erotic fantasy
content. Some are fully focused on REALITY. I suggest training yourself to indulge in fantasy a bit before you go into full on reality. Learn to not take things so literal. For example, if you are listening to one of my files, and I say something like " And as you are listening to my voice right now, you can feel my breath against your skin, and your body reacts so perfectly
obedient
by becoming
aroused
at this very moment" Those without an analytical mind will have a higher success of actually FEELING those sensations, and responding in the exact way that I have suggested. Those with an analytical mind will most likely be thinking " I am not feeling her breathe, and I do not have an erection, I am not in trance" Sound familiar?
In moments like this, use your imagination. I promise that you have one. Imagine what it WOULD feel like IF my breath was right against your ear. Imagine how good that would feel, how warm. How it would possibly make you tingle. Imagine that feeling my breath does make you aroused, even without an erection you could feel the sensations of arousal building up inside of your body. Once you get used to doing this , your mind/body will learn to respond exactly how I want it to, which is what you want as well.
5.
Stop being so skeptical.
If you are constantly thinking that hypnosis isn't real, are constantly searching for WHY hypnosis works, are always second guessing yourself or the hypnotist, you will never have the experience/s that you so desire. It has been proven countless times that hypnosis is real, and works, and it can be very real and work on you. You just have to let it. Easier said than done, but if you practice and find out what works best for you, you will be deeper than you have ever been before in no time ;) Stop comparing yourself with what others tell you, or with what you read from testimonials of others experiences with erotic hypnosis. Everyones journey is different. It also doesn't hurt to ask what techniques other people use to help induce a deep trance. You can try many different things, but know that what works for some, does not work for all. You WILL find what works for you if you keep at it.
Let me know how this tips work for you, and if you have any others, feel free to comment them below~
Visit My website
Visit My Hypnosis Store
Hypnodomme
Sessions
Hypnodomme
Utopia
29 minutes
This was a custom file that the purchaser and I decided just HAD to be released. This is one powerful file. A MUST have for
Goddess Worship
admirers.
This mp3 will change your perception of me. You will view me as a true, mighty, and REAL Goddess. A supreme being that you feel so lucky and special to serve and worship. There are several tasks, post hypnotic suggestions, repeat after me suggestions, and training tools throughout this mp3 to train you even further. You will never view me the same again. You love me, need me, worship me, and will ALWAYS obey me, for I am your mighty, powerful Goddess.
You fall weak before me, and accept your rightful place on your knees. Prepare to feel so powerless, helpless, and out of control for a REAL Goddess. You are going to love every single second of it.
This file includes a touch of financial control. Nothing of ruin or extreme. Even non findom lovers can indulge without worry.
[audio mp3="
https://hypnotichayleestore.com/wp-content/uploads/2014/07/The-Might-Goddess-Haylee-sample.mp3
"][/audio]
This is my preferred method of purchase!
or you may use NF
Hypnodomme
Sessions
Hypnodomme
Utopia
SISSY TRAINING DELUXE
You no longer have the right to think like a man sissy. Wimper for me sissy… dress in pink for me sissy and make me giggle while you prance around! All you want is cuddles.. and all I want is you with your pink lips wrapped around a real man's meat! You will be MY good girl won't you?
INVADING YOU
You exist to provide and maintain my comfort. You exist to be a show pony I whip when I crave nothing but a smirk. Will you be my show pony, slave? There's no reason to do anything but give in.
EMPTIED
Each day you plan to be strong, to salvage what's left of your money. I also know that no matter how good your intentions are to yourself, I always win. Prove yourself worthy of my financial drain pig. Worship ME. Become seduced.
Goddess is also available by calling directly at 1-855-MZDEVON

Hypnodomme
Sessions
Hypnodomme
Utopia
Vintage Lycia Fetish Clips (Part 1)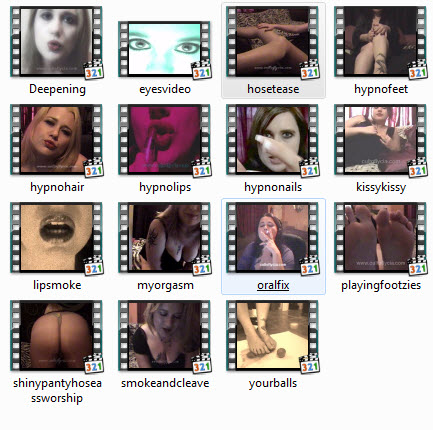 Here are 15 fetish clips, ranging from approximately 5-15 minutes long, which are no longer for sale anywhere else online! These clips include erotic hypnosis, brainwashing, smoking fetish, lipstick fetish, foot fetish, fingernail fetish, ass worship, tease and denial, chastity, and more. This is such an amazing deal, jump on it RIGHT AWAY...offered for a limited time only. 135 minutes for $25.
---
Hypnodomme
Sessions
Hypnodomme
Utopia
OMG I transform your brain into sugary sweet COTTON CANDY fluffy fluff! Become MY EMPTY PLASTIC HEADED DOLLY. OMG you WANT to be MY AIRHEAD DOLLY, don't you?
Picture, this, your new life..

a super cute mix of cupcakes, ice cream parlor, candy shoppe, make-up boutique, and barbie pink couture

! This is the life you have always DREAMED OF.. a life full of COLOUR & FUN!! Don't just DREAM IT.. BE IT!!
Watch & listen as you are TRANSFORMED into My TOTAL DOLLY DEBUTANTE who LOVES MAKEUP and FASHION MAGAZINES and ALL THINGS GIRLY. OMG what AM I doing to your bbrainn??!!
miss mary mackkkkkk! Get it NOW!
| | |
| --- | --- |
| ..DIAMOND DIVA PRINCESS | |
Shop til you DROP @ THE Financial Domination Boutique, Platinum Glamour!


Hypnodomme
Sessions
Hypnodomme
Utopia
Since my DEVONITED Program is rocking I decided to release the first of dozens of new assignments for you to pass the time away on - jerk yourselves into oblivion!
For those who ARE in the program, you will see info on how to up your Dpts by successfully completing the task as required. Some even have the chance at earning BONUS Dpts!
Goddess is also available by calling directly at 1-855-MZDEVON

Hypnodomme
Sessions
Hypnodomme
Utopia