Penis Puppet
I have to use your hands, but it's actually me doing the touching. How could it *not* be me, when I am the one controlling your every motion? In this guided masturbation session, I will do all kinds of fun things to your penis with my skillful, manipulative, and slightly sadistic hands. It won't be too painful, I promise. Unless you take into consideration the fact that you will be completely DENIED an orgasm. I guess that leaving your penis throbbing and bobbing helplessly in the air after I drive it to the brink desperation is a little bit cruel. But it will feel so good when I cause an array of erotic sensations to your genital region that you won't really be thinking about the long-term effects that inability to release will have on your silly widdle psyche.
Includes: guided masturbation, joi, light cbt, tease and denial, orgasm denial, sensual sadism, brainwashing, light humiliation. 35:10 minutes for $34.99
Listen to sample HERE.
Purchase through:
Niteflirt
-
Clippette
Hypnodomme
Sessions
Hypnodomme
Utopia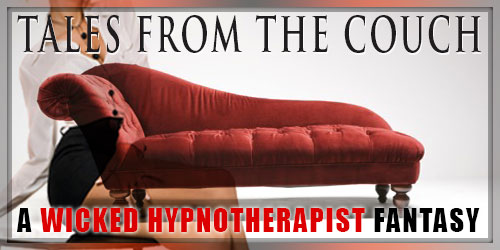 This pussy worship adventure will find you tricked into trance by your very sexy hypnotherapist, Tessa. You arrive for a little self-help, but I'll be helping myself to you. I'll turn you into my hungry, pussy licking slave after only a few moments on my office couch. You may not even remember why you keep returning to my office…over and over again.
Recording: Quality Stereo
Length in Minutes: 21:11
Background Music: Yes
Subliminal Layering: No
Post-Hypnotic Suggestions: Yes
Topics/Fetishes: a little touching, oral sex, pussy worship, wicked hypnotherapist, mild amnesia
Price: $20.00
Sample forthcoming
Hypnodomme
Sessions
Hypnodomme
Utopia
This is the SPARKLING PREMIERE of the latest Film Clip in My series of MIND CONTROL ART: Obsession, SO Sleepy, TAINTED LOVE, INITIATE BIONIC.. and NOW: DIAMONDVISION!!
Previously ONLY available via PRIVATE RELEASE, everyone has been SUPER CURIOUS about this TOP SECRET FILE.
Description: This film clip utilizes TOP SECRET mind control programming techniques of television programming, including hypnotic test patterns, NLP – Neuro-Linguistic Programming, and subliminal messages. Oh YES, the REVOLUTION *will* be televised ~ in lustrous oh so DREAMY DIAMONDVISION!!
you can't take your eyes off of ME in luxurious DiamondVision as you are pulled deeply into dizzyingly DIAMOND DAYDREAMS. This film clip is BEYOND hypnotic, I will control your mind effortlessly via My glorious DIAMONDVISION broadcast signal.
you will feel woozy & dizzy & oh so fluffy bbrainned as you watch My DIAMONDVISION broadcast signal.. you WANT to KEEP watching OVER & OVER & OVER.. Get it NOW.
you have been warned, this video is EXTREMELY HYPNOTIC & will BRAINWASH you to the nth degree.
A recent review:
"As art, DIAMONDVISION is cutting-edge experimental cinema. As a tool of persuasion, it eschews the blunt force trauma approach of other videos. One is led along by a nice background score, interesting visuals, and whispered words from Diamond Diva Princess. It seems rather innocent. Then you find you can't get it out of your mind."

After you watch DIAMONDVISION you will be absolutely positively DELIRIOUS to watch ALL of the film clips within My MIND CONTROL ART Series. Click them in succession below, and then watch them ALL LOOPED TOGETHER. I dare you!
Shop til you DROP @ THE Financial Domination Boutique, Platinum Glamour!


Hypnodomme
Sessions
Hypnodomme
Utopia
The Sperm Collector
Goddess Lycia derives power from each and every orgasm you have in Her honor, and the more intense your orgasm, the more powerful She becomes. Fall into a deep trance for Goddess; it's easy to do. Just allow the vibration of My voice to fill the cells and molecules of your body. Once you are in a Deep Sleep, you will have no choice but to become more and more aroused and addicted to being under My control. I will lead you to an amazing orgasm, in which you will become more completely and irrevocably enslaved than ever before. It doesn't matter whether you want to cum or not; I WILL have ALL your sperm, and you will want to cum in honor of ME each and every time.
Includes: erotic hypnosis, femdom hypnosis, forced orgasm, enslavement. 26:42 minutes for $24.99
Listen to sample
HERE
.
Purchase through:
Niteflirt
-
Clippette
---
Hypnodomme
Sessions
Hypnodomme
Utopia
I was in the mood for
mass mind control
, so I decided to release a new
free erotic hypnosis mp3
. Part of this session was first heard during a group
skype erotic hypnosis session
between myself and some of my most
obedient, loyal slaves
. You will have the opportunity to be a part of my group sessions in the future ;)
Curious what it means to
desperately ache
? The simplest way to sum it us is " Intense
heightened arousal
and
submissive
needy excitement throughout every inch of your mind and body, that causes you to become extremely weak,
obedient
, and open to my
suggestions and commands
"
Here is the description for the
free erotic hypnosis mp3
. The download link is below it. Enjoy.
"Being
aroused
, and
desperately aching
makes you so weak for me. Being weak for me means that you can easily be
manipulated
and molded into whatever I desire. You see how this benefits me? You are weak, I am strong. You
worship me
, you
desperately ache
for me. The more you ache, the more I can make you
surrender
.
Bliss
. Consider yourself warned that this will leave you to become an aching, trembling puddle of
submissive slave
, eager to please me. "
Share this file and/or post wherever you can! I want many minds to be exposed to my irresistible words.
Click Here To Download
Love,
Goddess Haylee
Yahoo
- Hypnotichaylee@yahoo.com -
Skype
- Hypnotichaylee
Twitter
Facebook
Youtube
Personal Direct Line-
1-866-973-0060
Click
HERE
to visit my store and purchase a call/chat/session/mp3s
Click
HERE
to send tribute
Niteflirt
Hypnodomme
Sessions
Hypnodomme
Utopia
DOMNOTICA.COM
A New Year to find new ways of wickedness! I am thrilled! Come see me. Domination doesn't have to be cruel but It's always wicked! JUST CLICK HERE FOR MORE!
Hypnodomme
Sessions
Hypnodomme
Utopia
Laying back, relaxing, and listening to my velvety voice
caressing your mind is going to cause you to effortlessly
drift down deeply in to trance. Your love for me shall
grow, and certain triggers and post hypnotic suggestions
will heighten your love and addiction to me. This is a
very sensual, teasing file. I use my irresistible voice to
reach your subconscious mind and open it completely
to all of my suggestions. The blissful feelings of love
and sweet surrender will maximize as your arousal
grows, and the hotter you become the more you fall
in love with me and feel the need to exist for my
pleasure. Of course I am going to tease you, so that
my commands sink in even further, as you get more
and more weak from arousal.
This is an extremely addicting file, only listen if
you are truly prepared to be madly in love with me
and addicted to pleasing me, for pleasing me becomes
better than having a physical orgasm. Do not listen if
you have an unstable mindset. This is not fantasy.
* Purchase a vanilla scented body spray before listening
to this file, and spray a bit in the room , on your pillow,
or on your body before you press play, you will understand
why once you listen*
*This file is not gender specific*
http://hypnotichayleestore.com/wp-content/uploads/2013/12/achingsample1.mp3
Preferred Payment Method
Alternative Payment Methods
Hypnodomme
Sessions
Hypnodomme
Utopia
I often receive messages from several different sites, regarding ways to
deepen hypnotic trance
. Sometimes a person will message me and tell me that they are
unable to be hypnotized
, seemingly can not feel the effects of
hypnosis
or
erotic hypnosis
, and have a hard time
falling deeply in to a trance
. They ask for advice on ways to
deepen hypnotic trance
, heighten the experience, and fall further.
I am going to list here 5 tips to help
deepen hypnotic trance
. These will be for
erotic hypnosis mp3s
, and can be practiced to
deepen trance
while listening to any form of
hypnosis
,
erotic
or non. I will write an article with 5 more tips for
live hypnosis sessions
soon.
These are in no particular order, are my opinion, and what I have found to work on many different subjects. Try one, try them all, and don't give up. If you really want something, sometimes you have to really WORK for it and on it.
5-
Practice deepening trance by listening to a hypnosis mp3 from a hypnotist that you TRUST.
-Many people enjoy
erotic hypnosis mp3s
by many different
hypnotists
. That is perfectly fine, but if you are one who complains of not being able to
sink deeply into hypnosis,
this can be a factor. Trust plays a HUGE part in trancing. You are essentially
opening your subconscious mind
up to everything that the
hypnotist
is saying. If you do not trust the person whose words you are listening to, you will automatically have a safe guard up inside of your mind that prevents you from fully letting go, and sinking deeply into that
bliss filled trance
. Try listening to a file from one
hypnotist
that you trust, for a few days. Take the time to learn more about the
hypnotist
, and even ask questions that can ease some worries that you may have. Once the trust is there, you will be able to let go easier. Once it is easier for you to let go, and see that you CAN reach
deep trance
, then you will be able to go back to enjoying files from as many
hypnotists
as you'd like, with the confidence that you can achieve a
deep state of hypnosis
.
4-
Listen to the hypnosis mp3 while focusing on something else
.
- No matter how many times you hear the
hypnotist
say " Focus completely on my words, focus on what I'm saying, focus on my voice", etc etc, sometimes you just have to focus on something else in order to reach a
deep state of hypnosis
. This is usually the case with those who have more of an
analytical mind set
, and often think WHY instead of just doing what is told. Try this next time you listen. ( NEVER listen while doing anything other than something relaxing, and that doesn't cause you to move around a lot)
Play the file on low volume, while laying in bed, and staring at a point on the ceiling or wall. Allow your eyes to wander around, and allow your thoughts to wander. Do not try to keep all focus on what is being said, why it is being said, and wondering if you are experiencing
trance
yet. Do not wonder if that sensation, or that feeling is making you fall deeper, just allow yourself to think about other things, whatever comes to mind while the entire mp3 plays. You can even read a book, or look at a magazine, or browse the internet while listening. Your
subconscious mind
will pick up on the important things that are being said, and eventually you simply will not ask why, or care as much on focusing on what is being said, and you will be able to just enjoy it and let go.
3-
Pick one spot to listen, one article of clothing to wear, and one before ritual to do each time you listen to a hypnosis file.
- Doing these things will prepare your mind and body for the upcoming
hypnosis,
and will help to
deepen hypnotic trance
. It will
trigger
yourself to know that
trance
is coming, and will help to deepen it.
Choose one spot to listen to the file, and pick one article of clothing that you will wear ONLY when you listen to a
hypnosis file
. I suggest this to be something loose and comfortable, like
satin pajamas
, fluffy pajamas, loose sweat pants, or underwear/
panties
. Keep this article of clothing solely for wearing when you listen!
Do something everything single time right before settling down to listen. This can be something like filling up a special glass with water, to drink right after you finish listening, or kneeling before a special photo in admiration, or spraying a light spray of perfume/essential oil on your pillow that you use only when listening to
hypnosis mp3s
. (Best if this scent reminds you of the hypnotist that you are listening to)
2.
Choose one or two files to train with for a week.
- Choose only one or two files to listen to for an entire week. Pick ones that have the most effect on you trance wise. Follow the other steps.
1.
Document your success
-
This is very important, and should not be over looked if you are serious about reaching a
deep hypnotic trance
. Start a physical or online journal that documents your success. You can include the following in it, leaving out, or adding in things that you wish to.
The name of the file you are training with.
How you feel before listening, How you feel after listening.
Which parts of the file made you feel the strongest sense of hypnotic trance.
Did you remember the entire session?
Were you fully alert with thoughts wandering the entire time?
Did you feel deeper this listen than last? Why or why not?
Write down any notes, any questions that you may have to ask, and anything else you feel is important. Start seeing what works, and what doesn't for you. Everyone is different, and experiences trance differently. What works for someone may not work for you, and vice versa. This is why it is important to document what does and does not work for YOU.
Happy Trancing ~
~
Goddess Haylee
Twitter
Facebook
Niteflirt
Personal Direct Line- 1-866-973-0060
Hypnodomme
Sessions
Hypnodomme
Utopia
This weekend ONLY!! My "your FAVOURITE Time of the Year" VIDEO MESSAGE is SO BEYOND GORGEOUS and you TOTALLY NEED to see it and listen to My VIDEO MESSAGE to YOU.
Place a completed call of 20 minutes or more with Me during My NITEFLIRT DRUNKY CHRISTMAS MONKEY PARTY PROMO which runs until Monday, and receive a complimentary copy of My

'your FAVOURITE Time of the YEAR'

VIDEO MESSAGE!
My Holiday video message to YOU!! OPEN IT NOW, Press Play, and follow My instructions!! GLAMOUROUS PLATINUM BLONDE wraps you around Her little finger!!

See Me in My totally gorgeous clothes next to My sparkly PINK Christmas Tree

in this beautiful Holiday Film Clip, as you are mesmerized by

My platinum blonde hair and RED RED Lips

!
Regularly 125.00
(*Completed call includes feedback.)
Don't miss out! CALL NOW
Hypnodomme
Sessions
Hypnodomme
Utopia

Always Panties Hypno
This erotic hypnosis session is for sissies and crossdressers who want to be finally free from owning any boy underwear. The time has come to get those icky things out of your dresser drawer so they can be fully replaced by the pretty panty collection you deeply desire (and deserve!) Once you have discarded all of your remaining boy underwear (boxers, briefs, etc.), you will have no choice but to enjoy the silky softness and delicate beauty of feminine fabrics encasing your private parts each and every day of your life. This is absolutely what you want; you just need a little push from Goddess Lycia in order to take the final steps necessary to get where you need to be!
Aside from getting rid of your boy underwear and growing your collection of girly panties, this audio session will encourage you to do other girly things like get your legs waxed regularly, get regular pedicures, and wear pantyhose whenever possible. After all, a silky panty-wearer should have silky everything. You will become more feminine than ever before, and it won't be just a "sometimes" thing. The first step is to toss those unsightly, masculine undergarments in the trash, and you will be compelled to throw away one or two pairs each time you listen to this session, until there are no more left to toss. I am really excited for you, and cannot wait to see your pretty panty collection!
Includes: erotic hypnosis, femdom hypnosis, sissy hypnosis, sissification, feminization, crossdressing, forced crossdressing, panty boy, panty fetish. 33:51 minutes for $34.99
Listen to sample HERE.
Hypnodomme
Sessions
Hypnodomme
Utopia