Become a Bimbo
This Femdom hypnosis file will turn you into an actual female bimbo in real life. You will feel your bimbofication take place during this session, and each time you listen to it, you will become more of an extreme bimbo. You will be taught the primary elements of being a bimbo, and you will be programmed to think and behave as a horny female bimbo at all times. You will find yourself taking all actions required to become more of an actual bimbo in real life, because you will finally realize that being a bimbo is truly what makes you happiest. You will also be taught to enjoy erotic humiliation, both public and private. You will love being called a "dumb slut," and basically doing anything to entertain and amuse your superiors.
The definition of "bimbo," for this session, is a horny, slutty female who is air-headed and ditzy. A bimbo is very concerned with her looks, and always wants to look as slutty as possible. She is hungry for cock in all holes, is submissive and obedient, and loves being humiliated.
Includes: erotic hypnosis, femdom hypnosis, feminization, bimbofication, whorification, breast expansion, crossdressing, cock sucking, humiliation, verbal abuse. 37 mins. for $34.99
Listen to sample HERE.
Purchase through:
Hypnodomme
Sessions
Hypnodomme
Utopia
Hypnodomme
Sessions
Hypnodomme
Utopia
Kissing and Edging Trance
This Femdom hypnosis audio session is based on a request from an admirer:
My idea is a hypnosis session that ends with a very sexy orgasm, but with a lot of teasing, denying, and arousal in order to get there. Something like a scenario where I (the listener) would get to experience what it would be like to share an intimate encounter with you. But only one where you have complete control and maintain your dominance.
After the induction you would tell me to imagine that I'm alone with you. We could be sitting on a comfortable sofa or laying back in a soft warm bed. You would have me look deep into your eyes while you speak to me. Tell me to watch your sensual lips move as I listen closely to every word you speak. Then you'd begin to tease with kisses, sexual touches, ...etc....but always pulling back when you know the orgasm is getting too close. As you proceed to seduce me, the kissing and touching would grow more intimate and sexual. But you would still deny the orgasm when it got close and it would hurt even more because the arousal would be that much higher.
After lots of sexy teasing and lots of cruel denial, you would finally ask me to prove how much I wanted to cum by giving you the most passionate sensual romantic kiss I am capable of. Then you would kiss me, and decide that it was good enough and allow me to cum. You would make me cum by some sort of sexual touch. (my favorite would be oral sex, but only because I love blowjobs, but any kind of intimate sex act would be wonderful too) But the orgasm would be used to further my devotion to you and your control over me.
So here it is!
Includes: erotic hypnosis, femdom hypnosis, sensual domination, kissing fetish, kissing sounds, tease and denial, tease and delay, edging, hand job, blowjob, eventual orgasm, deeper enslavement, whispered subliminals. 55:08 mins. for $39.99
Listen to sample HERE.
Purchase through:
Niteflirt
Hypnodomme
Sessions
Hypnodomme
Utopia
I have ACTUALLY updated The Devonite Temple 5 times last month - SHOCKING isn't it!?
There is much going on for those who commit themselves to MY training and live by MY CODE. I'm perfecting the hoops I have for you all to jump through going forward into this new year. Are you going to be jumping for me like a good puppy?
The latest updates sealed behind MY worship walls are as follows for January :
Gallery Update
Heaven Above (Foot Fetish / Toe Polish / Female Domination)
Found yourself in MY bedroom have you? I'm sure you won't be shocked to know this is the only view you will have. Looking up from the floor to your heaven above!
Bow to your foot fetish Queen!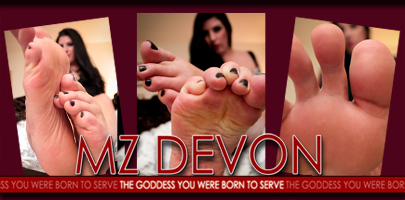 Want to obsess over my latest photo set immediately?
Go on, it's just 1 PTV to start.. doubt you'll be able to stop though! MzDevon.com/heavenabove
Video Update
Barefoot Toe Tease POV (Foot Fetish / Barefoot / Sexy Soles / Long Hair / POV)
My feet near your screen is a LUXURY for foot fiends like you! So very lucky you are that I give you these treats to drip to.
Audio Update
Sissy Training Deluxe (Feminization / Sissy Training / Forced Bi)
You no longer have the right to think like a man sissy.
Wimper for Me sissy… dress in pink for Me sissy & have Me giggle as you prance around!
All you want is cuddles.. ALL I want is you with your pink lips wrapped around real man meat!
You will be MY good girl won't you?
(LENGTH – 5:19 minutes)
Assignment Updates
SHAME ART PROJECT (Humiliation / Slavery)
Degrade yourself with what you are most ashamed. Extra points for photo submissions!
GROW FOR GODDESS (SPH / Humiliation)
This is a simple task and you only need a 3 things.
Will I laugh or be impressed at the improvement?
Goddess is also available by calling directly at 1-855-MZDEVON

Hypnodomme
Sessions
Hypnodomme
Utopia
Humiliation Brainwashing for Perverted Weirdos
Admit it: you LIVE for humiliation. You need to be embarrassed and shamed, and turned into more of a perverted weirdo by Goddess Lycia. This is what you want and what you crave. You are a humiliation junkie who NEEDS to be mind fucked beyond repair and turned into a whole new creature. WOW, you are horny already, knowing how much I am going to arouse you and manipulate you with my unique brand of INTENSE erotic humiliation and psychological reprogramming.
You will need a lipstick, lip-liner, or marker that is either pink or red (for a body writing task), a mirror (preferably full length), and a humiliating item of clothing or accessory.
Includes: humiliation, body-writing, humiliation tasks, verbal abuse, financial humiliation, mind-fucking, sissification, masturbation instruction, tease and denial, orgasm denial, brainwashing, fetish conditioning, perverted weirdo rituals. 32:48 minutes for $34.99
Listen to sample HERE.
Purchase through:
Niteflirt
Hypnodomme
Sessions
Hypnodomme
Utopia
Superior Glamour Goddess Fetish Photoset
You are so ready to see Goddess Lycia as you've never seen her before! In this set of high-resolution vintage glamour photos, my beauty takes you to previously unexplored realms of erotic fantasy. These images are both highly provocative and classy, captured by a skilled, professional photographer. They include visual stimulation for those who enjoy fur fetish, foot fetish, shoe fetish, glove fetish, lipstick fetish, voluptuous women fetish, blonde women fetish, and a fetish for all things sensually glamorous. It also helps if you have a thing for full, red lips on an open mouth, and a fetish for being enraptured by the beauty of a superior erotic Goddess.
Above are three tiny samples for you to obsess over until you cannot help but purchase the entire set of twenty-eight high-resolution vintage glamour fetish photos. Each individual photograph is a true masterpiece; you will undoubtedly treasure this collection. Perfect for those who love Goddess Worship and Femdom Elegance.
28 photos - 72 dpi - 2592 x 3888 pixels
Buy now through Niteflirt using the button below:
---
kissies,
Goddesss Lycia
Hypnodomme
Sessions
Hypnodomme
Utopia
28 minutes
This is a very potent love and addiction file. I channeled all of my sensual and blissful energy, and expressed it creativly throughout this powerful file. This has a romantic, Goddess tone to it, and I use my sensual, irresistible voice to guide you down deeply into trance through a conversational/relaxation pleasurable induction. Only listen if you can handle TRUE, and REAL in LOVE feelings and sensations. This is REAL hypnosis, not fantasy.
Do not listen if you are mentally unstable, or prone to a negative mindset, this is not the file for you. You will awaken as a new person. A more complete individual, who has finally found their true calling and place in life as my property. My prized possesion.
This file does not have an awakener. I want you to simply lay there after listening, in a blissed out state, slowly awakening from a blissful high, from being dropped so low.
[audio mp3="
http://hypnoticmindescapes.com/wp-content/uploads/2014/11/youlovemesample.mp3
"][/audio]
or
Hypnodomme
Sessions
Hypnodomme
Utopia
Teasing your Cummies Out
In this erotic hypnosis session, I first do an induction into trance, where you will become very relaxed and highly suggestible. Once you are in a deep state of trance, I will take control over your body and mind completely. Your level of sexual arousal will increase as I build your quantity of cummies, making your balls very full and heavy. Then I will tease your cummies out using a combination of sexual moaning, kissy sounds, and repetition of trigger phrases, such as "I am teasing your cummies out." You will also be conditioned to become more permanently and irrevocably enslaved to me.
You may orgasm any time after the induction. In case the cummies aren't yet released by the time we near the end of this session, I will give an orgasm trigger that will force them out.
Includes: erotic hypnosis, femdom hypnosis, teasing, kissies, moaning, cutesie talk, forced orgasm, enslavement. 40:50 minutes for $34.99
Listen to sample HERE.
Purchase through the button below:
*kissies*
---
Hypnodomme
Sessions
Hypnodomme
Utopia
Goddess is also available by calling directly at 1-855-MZDEVON

Hypnodomme
Sessions
Hypnodomme
Utopia
Feel the sensations of becoming an object, a doll. This is not a dollification experience but rather the experience of becoming a toy, a plaything for Ambre Jade. Deep surrender to the feelings of a total loss of control.
This is the first installment of a series devoted to you becoming My plaything, slowly, completely and without question. My toying with you gives you purpose.
This session is 25 minutes long
There is slight layering
There is no background music
Headphones are suggested and encouraged
Hypnodomme
Sessions
Hypnodomme
Utopia