"Snap! Jolt and you have to click. Love the idea and the recording. You will NOT be able to resist. İt is a reflex. SNAP! CLICK! You are now programmed for life." - DRONE MICKEY My *SNAP!* programmed DRONE for life!
"Pure magic. Pure Joy. i splay All my Worth at Your Porcelain toes and Splendid feet, With every Snap, inhale Nirvana." - My DOLLY DEAREST Sweet Stephie *SNAP!* programmed eagerly jumping to PILE a MOUNTAIN of CASH at My Perfect Feet with every SNAP of My Pretty Little Fingers!
Goodie Goodie Gumdrop ~> JUST CREATED!! *SNAP!* Hypno BRAINWASH Loop Post-Hypnotic Trigger mp3!!
By the time this loop session ends you will have no choice but to obey My SNAP!
When I snap I set My trap!
In this hypno BRAINWASH Loop Session My *SNAP* trigger will be embedded in your bbrainn. By the time this loop session ends you will have no choice but to obey whenever you hear My pretty little fingers SNAP or even see Me type the trigger word!
Once My SNAP post-hypnotic trigger is installed in your bbrainn your mind will SNAP as you are mindlessly helpless to My luxurious findom hypno trap!
Laced with subliminals and binaural beats, listen at your own risk! Don't say I didn't warn you, listen now.

Hypnodomme
Sessions
Hypnodomme
Utopia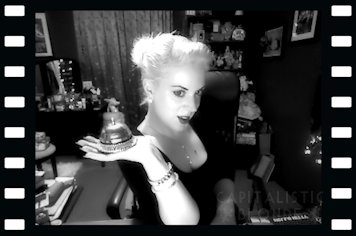 In My
PAVLOVIAN TRIPLE RING TRIGGER
mp3 I will be installing My Triple Ring Program in your head.
This mp3 exploits your WEAKNESS for My PAVLOVIAN BELL!
My Pretty Pink Jeweled Bell WILL control your helpless mind.
This
Pavlovian Hypno Trigger
will activate My Triple Ring Program, converting you into My salivating Pavlovian trained bell activated mindless drone! Omg GOOD BOY ULTIMATE REWARD SENSATION WILL BE INITIATED at the completion of
My PAVLOVIAN BELL TRIPLE RING
!
Jump through rings at the ringing of My Triple Ring!
Hypnodomme
Sessions
Hypnodomme
Utopia
So I already announced the revamp of my NiteFlirt site. If you haven't checked it out yet, click the pink image below and take a stroll on through!
The other BIGGER news is that I created a BRAND NEW site with another payment processor! You can click the lavender image below to check it out now, or read on for more of the story behind it, first. I like to give options for all types of attention spans. We do not discriminate here at Lipstickdomme.com, and we care about your comfort.
Still reading? Cool! I like you better than the other kind, who stopped reading. Although it's alright if they were just eager to get to the site and spend, in order to return later and read the rest.
So I have been working on the new site,
GoddessWorship.net
, for a month straight. Like, day in and day out. I had to teach myself stuff I didn't know yet. You know how technology changes, so you learn something- -like how to make websites- -and then you have to learn it all over again ten years later. Or sooner.
My new payment processing is through a trusted company that I've heard many good things about. And the extra super thing about them is that they take a cut of less than 10% from each sale, whereas the adult content sites I am accustomed to using take anywhere from 30-50%.
The new site is loaded with fun features and goodies- I wanted to make it interactive and exciting to visit. I also plan to update it regularly with new posts and features. I will be posting there above all other sites, so bookmark the site and sign up for my newsletter.
I added an option to the product pages to purchase through NiteFlirt, but the BUY NOW buttons will lead you to purchase through the new company. The only thing left remaining before the
look
of the site is complete is customizing my cart pages to match the rest of the site, which will be done some time next week. Otherwise, all systems are go! I have already accepted tributes from good boys through the site and everything tested out perfectly- so you may start shopping at any time.
I had originally planned to release my newest Femdom hypnosis audio,
Goddess Worship Doctrine
, right along with the release of
GoddessWorship.net
. I am sure you can detect the common theme, and even the colors of the respective designs. But I became impatient, and ended up releasing the MP3 first. Well- if you wish to think and behave correctly, you ought to buy/listen to the file, in between checking out the new site. It's just really the way to do it, I promise.
Finally, I would like to share my most recent manicures, which I wanted to match the colors of my websites. A couple weeks ago I got a mani/pedi to match the Goddess Worship site, and yesterday got a manicure to match my NiteFlirt site:
Like, is that not the cutest thing, for me to do? And it demonstrates how much these sites mean to me, and all the work I put in- to have it symbolically painted on my body. Which is something that makes you really want to show your appreciation for a Goddess who puts such time, effort, and care into her online presence- so that slaves, subbies, and admirers can more fully enjoy their experience.
Okay, done talking. Get to using the sites, now.
Multiple kissies,
Goddess Lycia
Hey sweeties and bitches~
Hypnodomme
Sessions
Hypnodomme
Utopia

Goddess Worship Doctrine
This Femdom hypnosis audio file is for my online slaves and submissives, and those who want to be. You need some clarification about how to serve me properly- I understand. I take you into a nice, suggestible place where my information can be deeply embedded in your subconscious, making it easier to fulfill your duty and moral obligation to Goddess Lycia.
While you are entranced, I instill My Rules as an Online Domme- what you are expected to do in order to please me. When you are behaving correctly, you will feel wonderful, euphoric sensations. If you engage in unwanted behaviors, you will feel a strong sense of guilt and shame, which will prevent you from doing the same again.
Poor sweeties- you've been confused. All this erotic material and writing in all these different places- what's a subbie to do? Here's your long-awaited and desperately needed solution. Listen, and your True Path will be illuminated.
Includes: femdom hypnosis, goddess worship, slave training, financial servitude
32 minutes for $34.99
Listen to sample
HEREPurchase through:
NiteFlirt - iWantClips
Hypnodomme
Sessions
Hypnodomme
Utopia
"Edge to This" Fetish Clip
This brainwashing video includes visual and audio subliminals, which encourage you to edge your horny penis without cumming. It is intended to be looped over and over as you tease yourself to the brink of orgasm multiple times, while always keeping your cummies held back, so that you do not lose the euphoric sensation of being right at your most heightened point of arousal.
6 minutes for $9.99
Includes: brainwashing, edging fetish, feather tease, cock tease, tease and denial, orgasm denial, moaning, kissies, bare feet, goddess worship, sensual domination, mock sympathy
Purchase through:
Niteflirt - iWantClips - Clips4Sale
---
*kissies*
Hypnodomme
Sessions
Hypnodomme
Utopia

Diddlefreak Asylum
Welcome to Diddlefreak Asylum. You have been admitted to this institution because you are a perverted weirdo. You are addicted to porn, and you play with your genitals all the time. You are obviously a sexually abnormal person, and need to be forcibly committed to a private, locked and closed residential treatment facility for incurable compulsive masturbators.
At the Asylum, you will be subjected to an intense, psychologically-invasive brainwashing program, which will include daily, prolonged sessions of tease and denial, erotic humiliation, demasculinization, and mind-fucking.
Because you are such a pervert that you have been forcibly admitted, you are unable to leave the Asylum until the doctors and nurses agree that you are permanently incapable of being a diddlefreak pervert ever again. Of course, we will never agree that you are "fixed," because our real purpose is to just make everything worse. And you won't want to leave, even if we were to grant you release. You will not know how to live in the real world ever again; the Diddlefreak Asylum is your new life.
Includes: hypno-programming, intense humiliation, complete orgasm control, orgasm denial, tease and denial, mind-fucking, behavior modification, being institutionalized, being monitored, twisted psychotherapy, bondage, helplessness, degrading punishments, psychosexual experimentation, forced bi, objectification, financial domination, sci-fi elements. 30 mins. for $34.99
Listen to sample HERE.
Purchase through:
Goddess Worship - NiteFlirt
Hypnodomme
Sessions
Hypnodomme
Utopia
Thought Obliteration
Has your mind been in overdrive, lately? Are there a bunch of thoughts going on in your head like way too often? Wouldn't it be nice to clear all that brainfunk completely the fuck out? Yes, sweetie, it would be DIVINE to get rid of that irritating jumble of congested, cognitive freeways that keeps my poor sweetie from relaxing.
In this brainwashing audio file, I will clear out your mind and turn you into a peaceful dumb-dumb. It's okay, you can be smart again another time. But for your own good, you must use this brainwashing file at least once per week, in order to have your thoughts obliterated. After each listen, you will feel reset, rejuvenated, and revitalized.
Of course, because this is a Goddess Lycia file, I'll also make you very horny and desperate to cum.
Includes: femdom brainwashing, thought reduction, thought obliteration, making you temporarily dumb, hypnotic control, mind control, increased sexual arousal, addiction to this file, enslavement to Goddess Lycia, light humiliation, tease and denial. 27 mins. for $29.99
Listen to sample HERE.
Purchase through:
Goddess Worship - NiteFlirt
*kissies*
Hypnodomme
Sessions
Hypnodomme
Utopia
Click play above to watch a teensy teaser of EYE, HYPNOTIZE~
Like a Pop Art Disney Princess, I look so pretty and innocent and yet I am SO DANGEROUS for you!!!!
EYE HYPNOTIZE you with My EXPRESSIVE Kohl-Lined EYES, CRYSTAL TIARA, shoulder-dusting SPARKLY EARRINGS and DISARMING SMILE. OMG you cannot resist My HYPNOTIC BEAUTY, ENDLESS ALLURE, and FEMININE MYSTERY.
I am an ENIGMA and you are ENCHANTED, ENTRANCED and ENTHRALLED with the charming PARADOX of MY BEAUTY and DANGER~
Click BUY NOW & watch on your KNEES. INDULGE in My Hypnotic Femme Fatale LOVE SPELL.... I WILL use it to get what I want out of you.. and you won't be able to resist
Hypnodomme
Sessions
Hypnodomme
Utopia
Hello all! this not a Femdom hypnosis file, per se, but it is hypnotic, and includes triggers I've put in "Constant Diddling Syndrome." Please enjoy~

*kissies*

Goddess Lycia

"Drips" Lipstick Fetish Video
Spur of the moment lipstick and liploss fetish clip, including drips.
I was basically sitting here feeling sexually aroused, and decided to utilize my sexual energy into showing you how I apply lipstick and lipgloss in an erotic manner. Very little talking, mostly just sensual lipstick and lipgloss application and showing off my cockpillo... I mean lips.
6:30 minutes
Includes: lipstick fetish, lipgloss fetish, blonde fetish, goddess worship
Purchase through:
Hypnodomme
Sessions
Hypnodomme
Utopia
Virginity Reset
This Femdom hypnosis file will reset your virginity, so that all you know about sex is what you learn from Goddess Lycia.
I understand, sweetie, that you need to be removed from the burden of manhood. You need to be shown your true purpose, which is service to me and all women. Being a benevolent Goddess, I wish to help. After guiding you into into a deep sleep, I will peer into your subconscious mind and remove any memory of ever being intimate with a woman. This includes all instances of regular sex, receiving blowjobs, licking pussy, or even touching a boob. Those are things men do, and they are not for little virgin boys. The only sexual experiences virgin boys can remember are experiences where they submitted to dominant women, paid a woman in order to cum, or got rejected by a woman. Those memories reinforce your desire to stay a virgin.
Once your regular sexual experiences have been eliminated, you are once again a virgin. As a virgin boy, you must learn about your sexuality from me, as it is entirely mine to define. I will teach you to think and behave correctly as a virgin boy, which includes teachings on celibacy, chastity, virtue, subservience to women, focus and emphasis on particular fetishes, and Goddess worship.
Includes: femdom hypnosis, brainwashing, mind control, chastity, enslavement, female superiority, goddess worship. 26 mins. for $29.99
Listen to sample HERE.
Purchase through:
Niteflirt
Hypnodomme
Sessions
Hypnodomme
Utopia